All images are © Copyright Postal Order Society and the owners.





King Edward VII 1st issue die proofs for the head


To replace Queen Victoria's head, otherwise there were no changes to the design for King Edward VII on the first issue.



Die proof for the Colonies & Dominions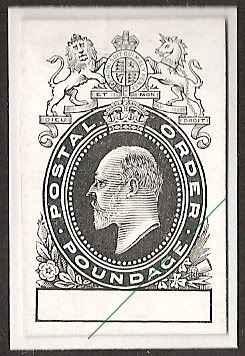 Die proof for the UK
First issue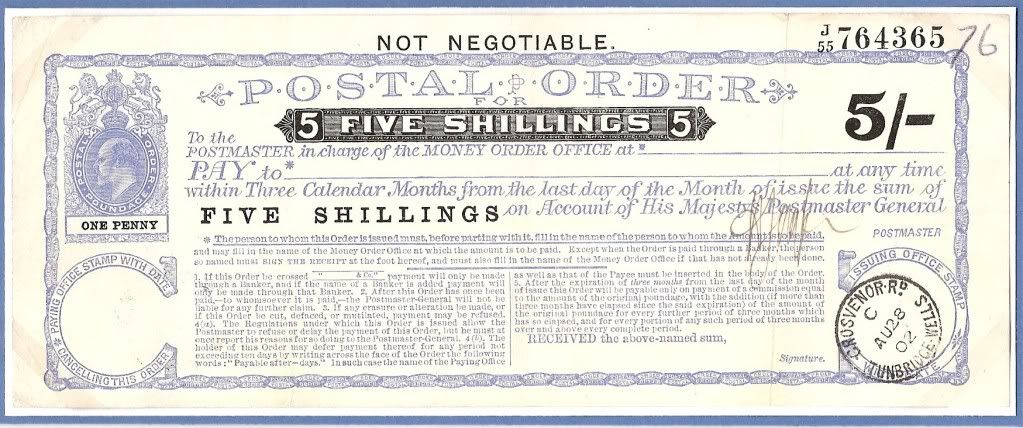 [ex Howard Lunn, Tony Brown, Michael Brill]


Second issue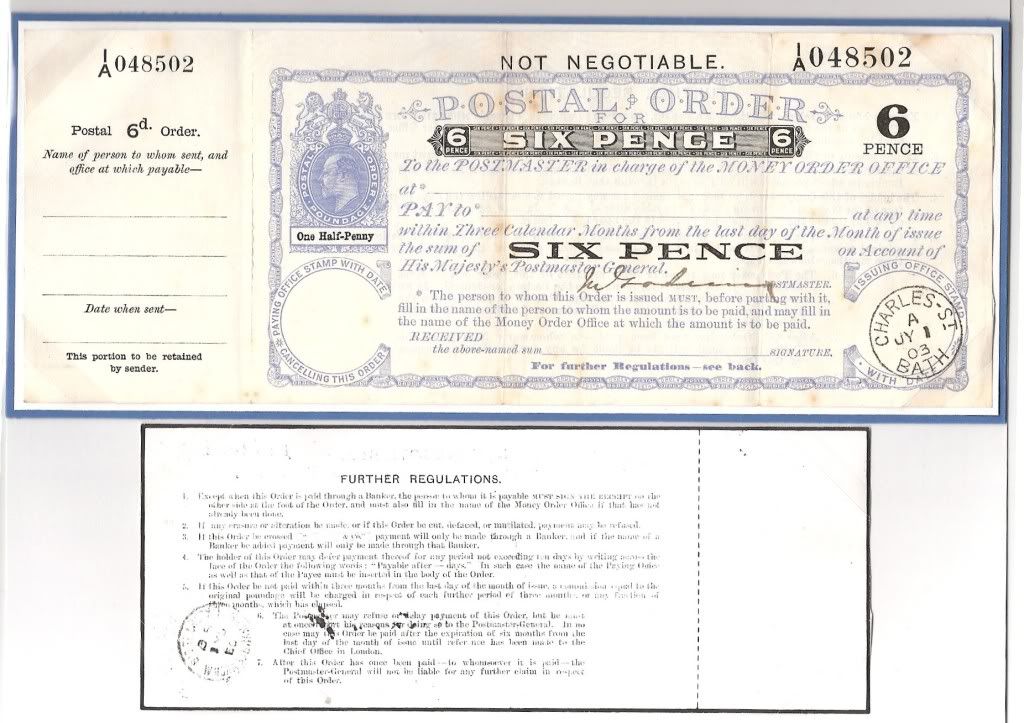 1st day of issue of a 6d 2nd issue, 1 July 1903. First ever 6d UK Postal Order, first UK Postal Order to have a counterfoil, and first time the regulations were printed on the reverse.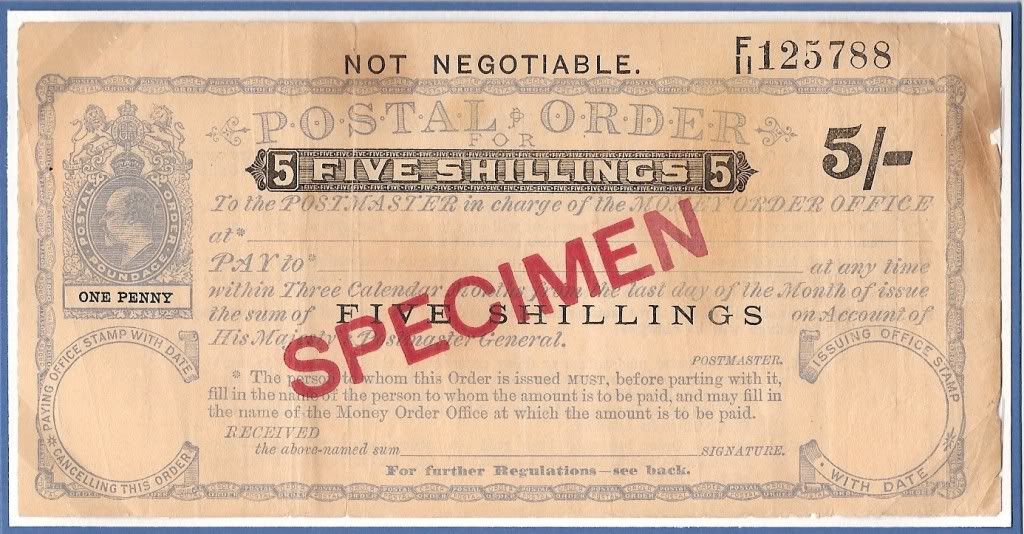 "Specimen" overprint. ex Jack Harwood



3rd issue


"British" added to the main heading. First to have a stamp box.
First type stamp box: no heading "Postage Stamps".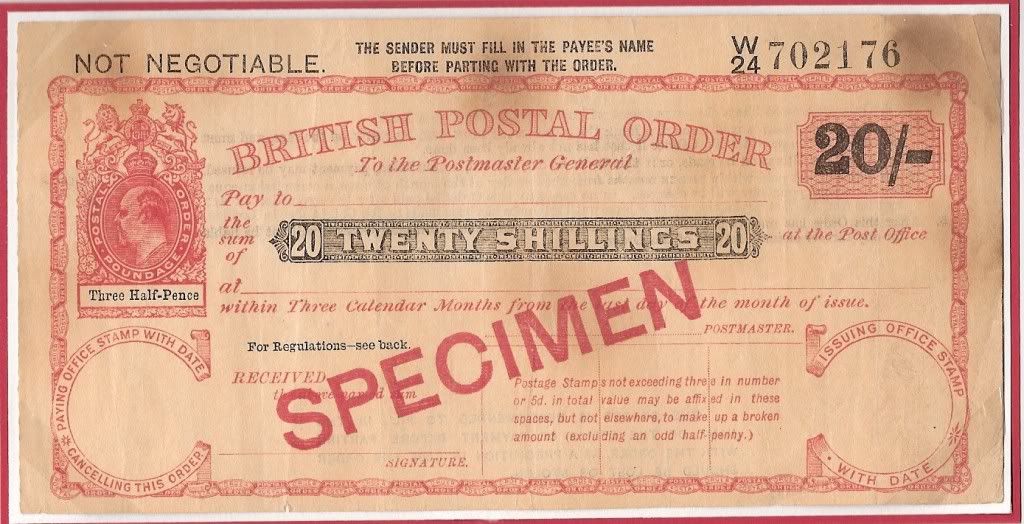 "Specimen" overprint, first red Postal Order.
Ex Jack Harwood



Contract note modelled on a contemporary Edward VII Postal Order






The Chief Chemist, "Tatcho" Laboratories, Lincoln's Inn Fields, London.
The sole object of this special concession is to enable the public to prove the revelation that "Tatcho" works in cases of baldness.
Edwardian replica advertising Postal Order used by "Tatcho" laboratories in 1903.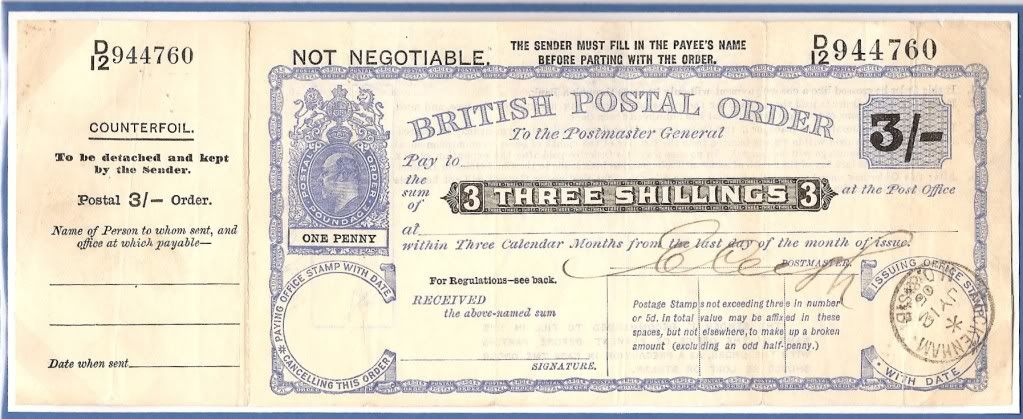 This postal order was not cashed within the three month limit from the last day of the month of issue. In 1964 (sic) a Mrs Knight sent the Postal Order to the Head Post Office in Farnham, Surrey, where a "payment authorised" cancellation was applied to the reverse of the postal order (see below). Fortunately this postal order survived, issued with the scarce first type stamp box.






4th issue


Second type stamp box: with heading "Postage Stamps".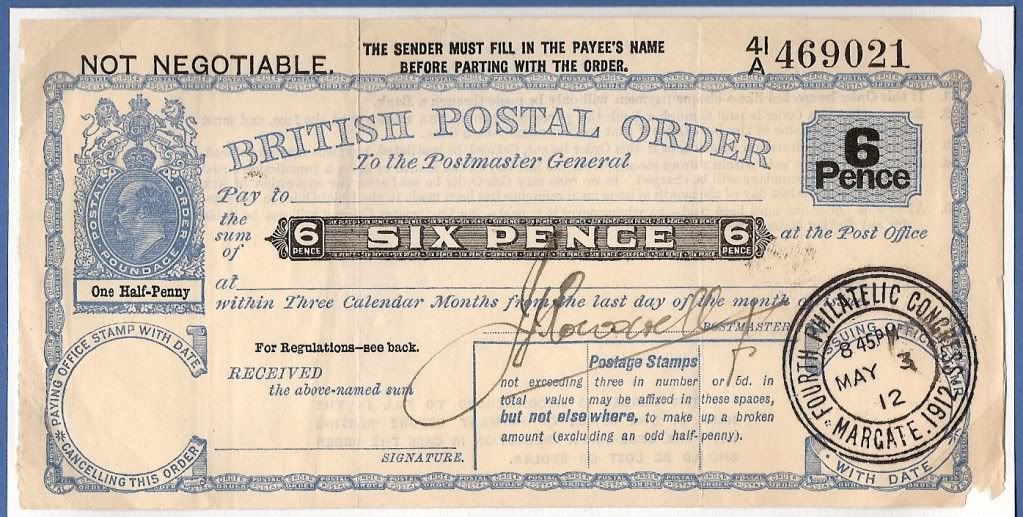 Issued at the 4th Philatelic Congress, Margate, 1912, with special date stamp.



Last update: 23 November 2010

_________________

As the site manager, I welcome any comments and suggestions from members, but cannot (of course) guarantee to implement them all.